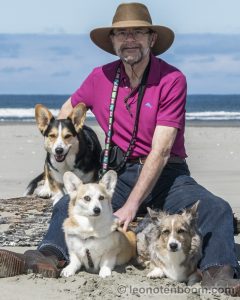 Leo was born in Victoria, B.C., Canada, and moved to the U.S. at the age of 3. Since 1960 he's lived in and around the Seattle area, currently in Woodinville with his wife of 38 years, Kathy, and three Corgis.
Leo's career and interests can best be summed up as "computers, coffee, and Corgis", though not always in that order.
After an 18+ year career at Microsoft writing software or managing those who do, in 2003 Leo started Ask Leo!, a web-based technical support resource for consumers, now entering its fifteenth year helping demystify technology for non-geeks.
Leo publishes HeroicStories.org — a twice weekly story exemplifying people being good to one another in the hope of inspiring similar actions in others — and NotAllNewsIsBad.com — a daily reminder that, as its name implies, there are a lot of good news stories out there if you know where to look.
1997 saw the beginning of a decades long love affair with Corgis. Kathy and Leo have become known in the local Corgi community as the host of the annual Pacific Northwest Corgi Picnic.
Leo volunteers his skills to a variety of organizations including the Snohomish County Auxiliary Communications Service (amateur radio), Washington Animal Response Team (WASART), and acts as moderator and technical resource for variety of Corgi-related mailing lists and web sites.
(See also: Career)